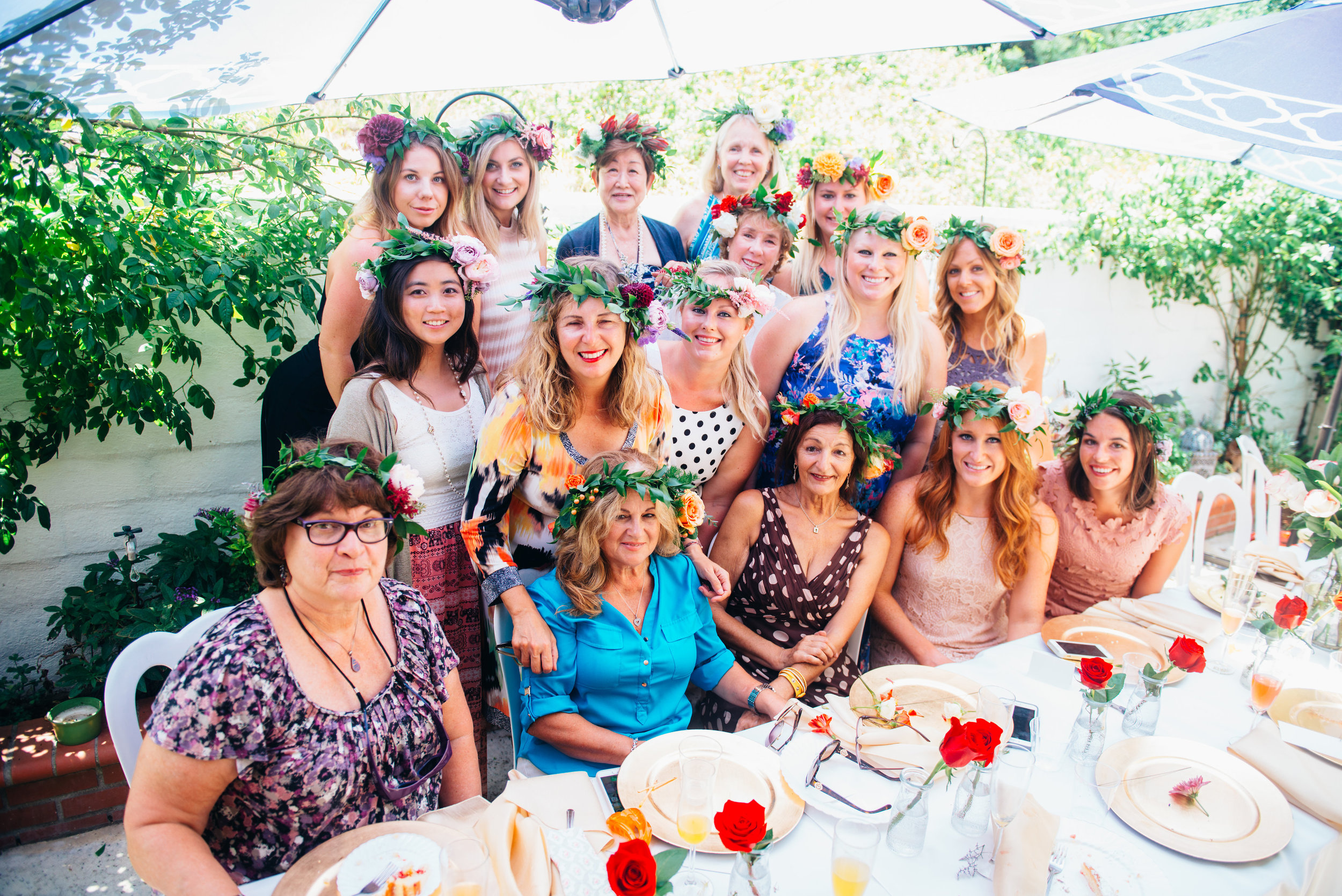 Classes & Parties
Floral Crown 101
Let us show you and your guests the basics of making a Floral Crown and then you can each create your own crown from a wide selection of gorgeous blooms and greens We will be there to assist and answer any questions. Each guest will go home with a Floral Crown of their own making.
Bouquet Bar
Or also known as Wine, Cheese and Flowers =). Invite some girls over or find a fun place to gather and we will help you girls create beautiful Floral Arrangements to take home. You can choose from any of our design workshops or classes or let us create a night just for you and your girls.
Bridal and Baby Showers
Our most popular of party classes… Tired of the same games and activities at a Shower? Do you know how to unscramble the name of every baby item or create the perfect Bridal Gown out of toilet paper? We can show your guests how to make Posies or Floral Crowns out of beautiful local flowers.
Holiday Parties
Let your imagination run wild as we teach your guests how to arrange flowers in Pumpkins or with Candy Canes and Gum Drops or Wintery Greens. Sparkly New Years Ideas or a celebration of Love. Shamrocks and all things GREEN! Easter Baskets and Bunnies, or Teacups with Mom. Red, White and Blue and all things Scary, you name it and we can show you a fun way to add flowers to each and every holiday
Workshops, Speaking Engagements & Private Lessons
How to Arrange the Grocery Store Bouquet
We offer this workshop in both large settings or small groups. In this workshop we explore how to best arrange the Grocery Store Bouquet, when to buy your bouquets, how to know you have picked the right bouquet and how you can enhance each bouquet without breaking the bank. We tell you what tools to have on hand and how to use them, what vases work best and some unique ideas on arranging for your home. Also how to make those flowers last and how to forage in your yard or local areas.
Mother's Day (FOR KIDS ONLY)
Every Saturday before Mother's Day we offer an open class to kids of all ages to come and arrange their Moms bouquets on their own. They get to choose the vase and flowers and with gentle guidance create something just for their Mom. DADS!! this is a big hit with the ladies, not only did you let your kids express their love for their Mom in a creative way, but you also got them out of the house for an hour.
Mother NOT the Bride
How to help plan for your (Kids) Best Day Ever!!! What experience has taught us about being the Mother of the Bride or Mother of the Groom and how to plan for, and prepare for your Son or Daughters Wedding and enjoy (almost) every minute. This workshop is for both Moms and Daughters but anyone is welcome. We truly believe that with the right tools you can not only enjoy the Wedding Day, but all the days from Engagement to Wedding Day.
Posies & Bouquets
This one is for the DIY who wants to learn to make bouquets for their own Wedding or other occasion. We will guide you through what the best flowers are to use in bouquets, what greens work well in bouquets. We will discuss colors, seasons and pricing and how to shop local. And finally how to tie it all together.
One on One
Just want some alone time on how to arrange anything of your choosing or interested in the Floral Industry or just want to chat about flowers we would love to spend some time with you.
contact us at hello@sweetblossomdesigns for booking dates and pricing